Specialties
Phillips Drug specializes in fast and efficient pharmacy service, with a certain hometown flair that everyone enjoys. Unlike chain pharmacies, Phillips Drug employees enjoy meeting new people and welcoming them into our family.

Given the chance, we will always try to match any price brought in for generic medications in order to help our customers receive the best possible value. We also provide refill reminders, medication packaging, medication synchronization, immunizations, and personalized medication consults. Free weekday delivery to most surrounding areas is also offered.
History
Phillips Drug has been and still is a family-owned business. In 1964, Jim Phillips purchased the pharmacy from Cline McGregor, who had owned the existing pharmacy for 12 years. Phillips is a third-generation pharmacist, who followed his father and grandfather in the pharmacy business, which began in St. Marys, WV in 1898.

Brian and Lindsay Camerlin took over the pharmacy in 2015 from Jim Phillips. They expanded the pharmacy department and added more services to provide the best possible customer experience.

Everyone who works at Phillips Drug strives to get to know each and every customer, and it's not uncommon to receive a get well card or a thank you card from "the gang" at the pharmacy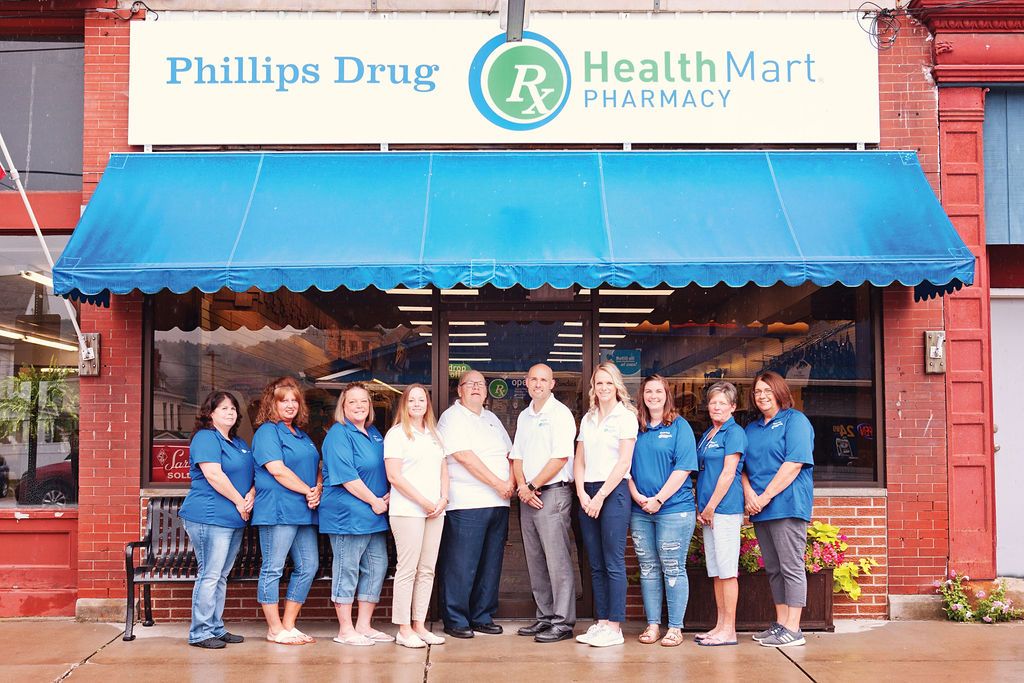 Jim Phillips started the pharmacy over 50 years ago and we continue to offer the same friendly service, helpful medication advice, and affordable prices. His valued employees through the years, many of them still with us today, have enabled us to give are residents the best that pharmacy has to offer.
~ Brian and Lindsay Camerlin, owners
Brian Camerlin, PharmD.
Originally from Sistersville, WV. He is a 2005 graduate of WVU School of Pharmacy.
Lindsay Camerlin, PharmD.
2007 graduate of WVU School of Pharmacy. Now resides in Sistersville with husband Brian and two children
Cookie Roberts
Pharmacy technician from Middlebourne, WV working in pharmacy for 25+ years.
Yalonda Harton
Pharmacy technician from Sistersville, WV with 5 years experience.
Shannon West
Pharmacy technician from St. Marys, WV with 10 years experience.
Lindsey Watson
Pharmacy technician in training from Middlebourne, WV.
Rachel Chaplin
Serves as our cashier and performs deliveries from Paden City, WV.
Joleen Sidenstricker
Cashier from Sistersville, WV with 15+ years experience at Phillips.